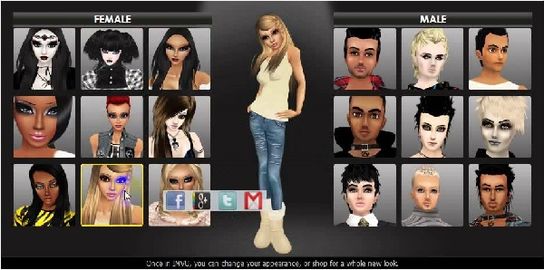 As soon as you go to the signup page on IMVU you will be seeing a screen with pre-made males and females avatars. Above the main screen you also have a set of options. Clicking on them will reveal more avatar categories and styles. For instance you can go to Special Occasions. Here you can dress up for a wedding or for a beach day. Another options are Endless Summer, Cosplay, What's Hot, The Dark Side, Furdom and Street Swang. After this step you will be required to pick up the account/avatar username. Quick Tip: Before you even start create your account, I recommend using a new email different from your personal email. Why? Because IMVU has the pleasure to send you lots of spammy, pointless emails and you don't want that mixed within your personal stuff. At least this is how I made my second account on IMVU. You will want to connect this email with your IMVU account to receive free 1500 IMVU credits. For your avatar name try to choose something catchy and short. After you completed all the required fields from this signup page you will be taken to a new page.
On this new page you will want to click on the Download IMVU Now button to download the IMVU client. Once the download is complete you will see the IMVU client login window. What the client really is? The client is basically the non-website version that everyone chats on. Here are where the chat-rooms are, where you can dress up your avatar, create your rooms and more. Login using your signup details. A new window will pop-up.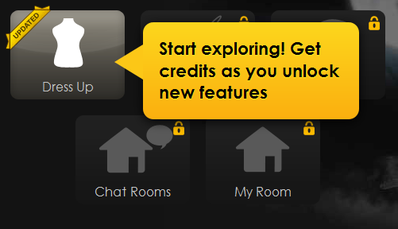 You have more features that need to be unlocked, earning free credits with each unlocking. First you have the Dress Up feature that is not locked. Dress Up is the hub where you make your avatar the way you want to make it look. Here you can also change your gender, your clothing, your hair, makeup, fingernails. You can basically change everything. There are even body modifications. And then if you still haven't found everything you want in Dress Up and the Shop combined, there's creating.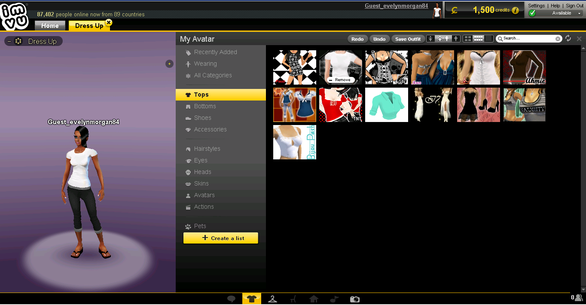 Here you have your avatar preview along with other filters for easier navigation. 
Recently Added

Wearing

All Categories

Tops

Bottoms

Shoes

Accessories

Hairstyles

Eyes

Heads

Skins

Avatars

Actions

Pets
When you first create your account you already have these. All Categories will show you everything you have available. It is not a broad collection, but there are some decent stuff. After you exit the Dress Up the next feature will be unlocked.
Shop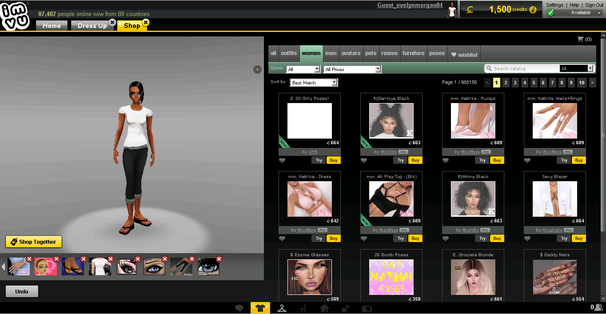 To fully enjoy this feature you need real life money. If you don't have it don't bother too much with it. If you do however have the money, you can spend real money towards getting things called IMVU Credits. Credits are credits you can spend on yourself and friends, while promo credits are credits you were rewarded through IMVU and can only be spent on yourself.
Below your character preview, you have the items that you are currently wearing. Clicking on "X" icon will remove them. On the top right side of the screen above the items window you have a number of tabs for different categories. On the left down corner of each item you have a heart shaped icon. Clicking on it will add the item to the wishlist. Outfits are things that other IMVU people made. Exiting the shop will unlock the next feature.
Credits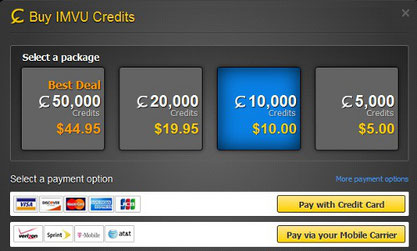 As I wrote earlier credits are things you can buy with real life money. IMVU does not give you credits for good deals. For free IMVU credits see this post. Until the previous year you were able to buy credits at a cheaper price through the so called resellers. IMVU took out the option to purchase credits via this method. Now it's time to go to the forth unlocked feature.
Chat Rooms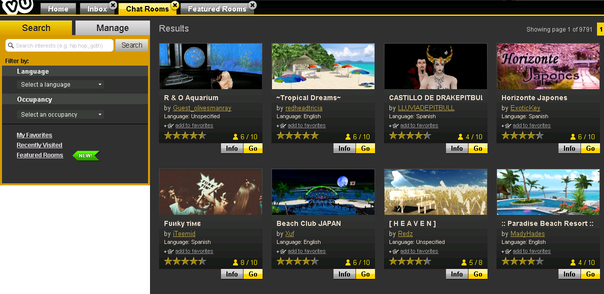 This is where everything happens. This is where you meet friends, foes. You create your life through IMVU Chat Rooms. Left side is the search bar. When you start a brand new account, you're gonna get a "Welcome to IMVU!" big yellow squared message. This will give you three separate rooms that you can go into and meet new players like yourself. You will there be able to make friends while learning more things about how to use IMVU, about the chat interface. Apart from these three pre-made chat rooms you also have the chat rooms that are created by other IMVU users. People as yourself create these rooms. To enter a room you need to click GO. Click Info if you would like to see who is in the room, the room description, who created the room, the language spoken in the room and also a room rating system. Now it's time to unlock the next feature. However, we are going to do this in the Part 2 of this tutorial.